Hensley Vac Portable Reclaim
For customers who do not need to reclaim feed on a regular basis, the Hensley Vac, a bumper tow vac unit is the solution. Developed in 2018, and sensing a need in the industry, Hensley's designed a self-contained, gasoline powered unit. The 35HP engine powers the Gardner Denver blower and 8-Vane Air Lock. The Boom is electric and has a reach of 13' 8", allowing the fill of either a hopper or feed trailer, and it also comes with (4) 4"-16' Long Galvanized Flex Hoses. With the Hensley Vac, rust, corrosion and peeling paint are things of the past. The chassis is made from Hot-Dipped Galvanized Steel, the Cyclone and Dust Collector are made of Stainless Steel and the Rims are Hot Dipped Galvanized. Also available as an option is a Mill Clean-up kit, consisting of a 25'-2" hose, crevice tool and floor sweep.
Whether you have a bin to reclaim, a pit that needs cleaned out or a plugged elevator leg, the Hensley Vac is the solution.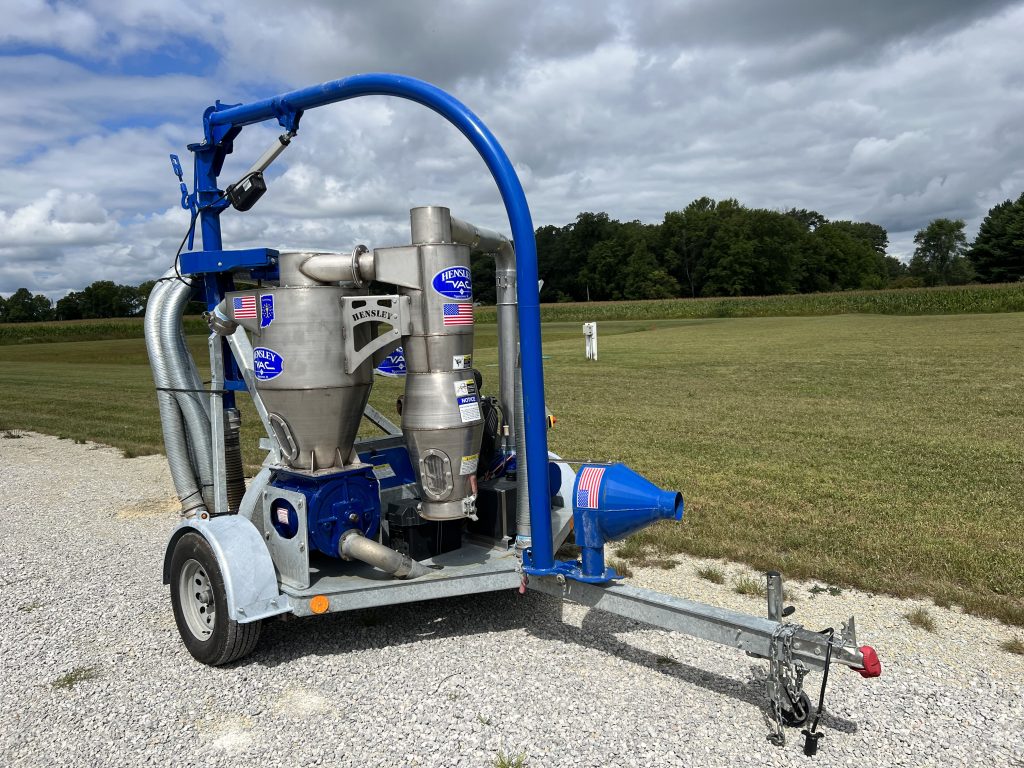 Features
Gardner/Denver Blower – Mounted On Trailer
AWS 101 8-Vane Air Lock
35HP Vanguard Gasoline Engine
10 Gallon Fuel Tank
Stainless Steel Cyclone and Dust Collector
View Windows on Cyclone and Dust Collector
(4) 16′ Long Galvanized Flex Hoses
(3) LED Spotlights
Hot Dipped Galvanized Frame and Rims